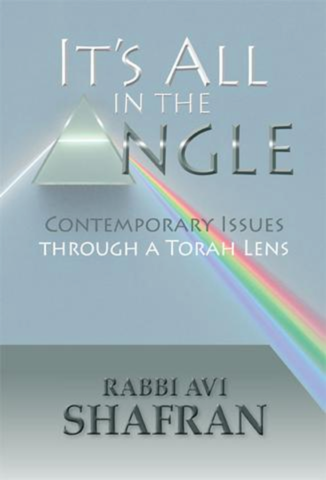 Consider a gift of literate, Torah-based perspectives for a friend, relative or co-worker.
"It's All in the Angle" (Torah Temimah Publications), a collection of selected essays by Rabbi Shafran, is now available from Judaica Press.
https://www.judaicapress.com/It-s-All-in-the-Angle.html
Some comments about the essays:
HaRav Aharon Feldman, shlit"a, Rosh Yeshivas Ner Israel Rabbinical College, Baltimore, Maryland:
"For many years, Rabbi Avi Shafran has been presenting a perspective on current issues and basic Torah ideas in many forums, among them as spokesman of Agudath Israel of America. He has done this through insightful thinking expressed in brilliant writing. It is gratifying that he is now publishing his writings in a book which will greatly enhance contemporary English Torah literature."

Rabbi Emanuel Feldman, Rabbi Emeritus, Congregation Beth Jacob, Atlanta, Georgia, and former editor, Tradition: The Journal of Orthodox Jewish Thought:
"I always look forward to reading Avi Shafran's writings. They are invariably on the mark: well thought out, well written, provocative — what could be a better combination? From all angles, he is a cut above the rest."
Rabbi Meyer H. May, Executive Director, Simon Wiesenthal Center:
"Rabbi Shafran's consistently insightful analysis of contemporary events and challenging issues invariably reflects a profound appreciation for Torah-true Judaism at the highest level. His superb language skills and considerable secular knowledge, together with proven bona fides as a legitimate Torah scholar, emerge gracefully in every writing."
J.J. Goldberg, editor emeritus of the Forward:
"Sometimes it's a predictable polemic in defense of Orthodoxy and Orthodox Jews; sometimes it's a not-so-predictable comment on current events. And every so often it is an observation about the world and humanity and the soul that can take your breath away."
Moment Magazine founding editor Leonard Fein:
"I look forward eagerly to Avi Shafran's essays and ruminations, and am rarely disappointed.  They are always elegant, and though I frequently disagree with their thrust, there are times—the best of times—they force me to rethink my own positions."
Former New York Sun editor Seth Lipsky (writing in the Wall St. Journal):
[Rabbi Shafran's essays have] "far too few readers."
Judaic Studies Professor Jacob Neusner:
[Rabbi Shafran's essays] "present an authentic account of the Torah's teachings today… I rely on them for setting the standard of integrity in presenting normative Judaism to contemporary culture and politics."
Professor Ari Goldman of Columbia University:
"A lot of journalism is ephemeral — here today and gone tomorrow — but Rabbi Shafran's words endure. And that is because he writes about things that matter in a compelling and entertaining way. He provides a clear window into how the Orthodox world sees a variety of issues, from science to politics to contemporary culture, and he is not afraid to ask tough questions. Most of all, Rabbi Shafran is a great storyteller who gently guides the reader along. We are all the richer for his insights and guidance."

OTHER BOOKS THAT MAY BE OF INTEREST :
Fire, Ice, Air : A Polish Jew's Memoir of Yeshiva, Siberia, America
https://www.amazon.com/Fire-Ice-Air-Yeshiva-Siberia/dp/0615598196/
Rabbi Simcha Shafran's recollections of his youth in Poland, his sojourn in a Societ labor camp in Siberia during WW II and his career as a rabbi of a congregation in Baltimore — written with his son, Rabbi Avi Shafran.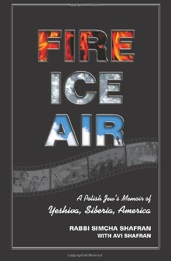 Migrant Soul
The true story of a part-native American, part-black man's journey, with his Jewish wife, to observant Judaism.
https://www.amazon.com/Migrant-Soul-Story-American-Convert/dp/1478215232/